Scifi Samurai's Sailor Moon Fan Fiction, page one.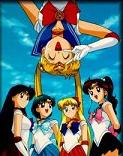 This is my first Sailor Moon Fan Fiction story that I have written. In fact, this is my first Fan Fiction story ever. The Sailor Moon Characters don't belong to me, they are property of DiC (I think). The Lonely Samurai, his true identity, and any other names in the story which you won't be found on Sailor Moon do belong to me. So far I have only seen the English Sailor Moon which goes from the beginning of the whole story to the end, I think, of Sailor Moon R (Prince Diamond, Emerald etc..). It is set after they have been defeated, which I have not yet actually seen, but I know that it must happen because of Sailor Moon S in Japan. If you have any questions, comments, or suggestions as to how I may be able to improve this fanfiction or about anything else on the website you can E-mail me. Please excuse my punctuation, I am not that good at dialogue, mainly with were to put the quotation marks.



HERE BE SAMURAI
Litta was in the kitchen fixing up one of her delicacies when the phone rang. She yelled, I'll get it. "Hello this is Litta may I help you?" Hello Litta this is your Aunt Nora, I just wanted to let you know that your cousin David is coming to stay with you for the next month to spend some time with you. Do you remember him? "No, I am afraid I don't", said Litta.
Well, said Nora, that is to be expected, because the last time you two were together was in the sandbox when you were two years old, and he was two and a half." Wow, said Litta, I can't believe I have a cousin that I never even knew about. Is cousin Sheila going to be here too?" Oh yes, replied Nora, she will be there as well, along with myself and your Uncle Travis for the first week or so, then your Uncle and I have to return home." Gee, thanks Aunt Nora, when exactly are you going to be here, so I can prepare a feast for everyone?" A week from tomorrow, said Aunt Nora. It was nice talking to you Litta, tell your friends I said hi, Ok. Ok, replied Litta, bye.
David said to Sheila, "what are we going to do when when we get to Litta's house?" Oh, see the sights, talk about family, get caught up, you know the normal stuff said Sheila as she was packing her suitcase.




FOR THOSE OF YOU WHO LIKE MY STORY, I WILL KEEP ON WORKING AT IT, AND AS I ADD PARTS TO HERE BE SAMURAI I WILL ADD THEM AT MY NEXT EARLIEST CONVENIENCE. THEY WILL BE UP HERE SHORTLY, IT MIGHT TAKE A WHILE SINCE I'M STARTING SCHOOL AUGUST 5TH. THANK YOU FOR YOUR PATIENCE!

If you want to see a web site with a wealth of information on various Anime series please visit my friend Kateri's web site!


Just Click on the banner!






Thanks for Visiting


SITE MAP


HOME
SCIFI
MUSIC
DELAND
MOVIES
ROSWELL
TEKNOMAN
PROFILE